Celebrating the best of local business at the 17th Seahaven Business Awards 2022
Contact us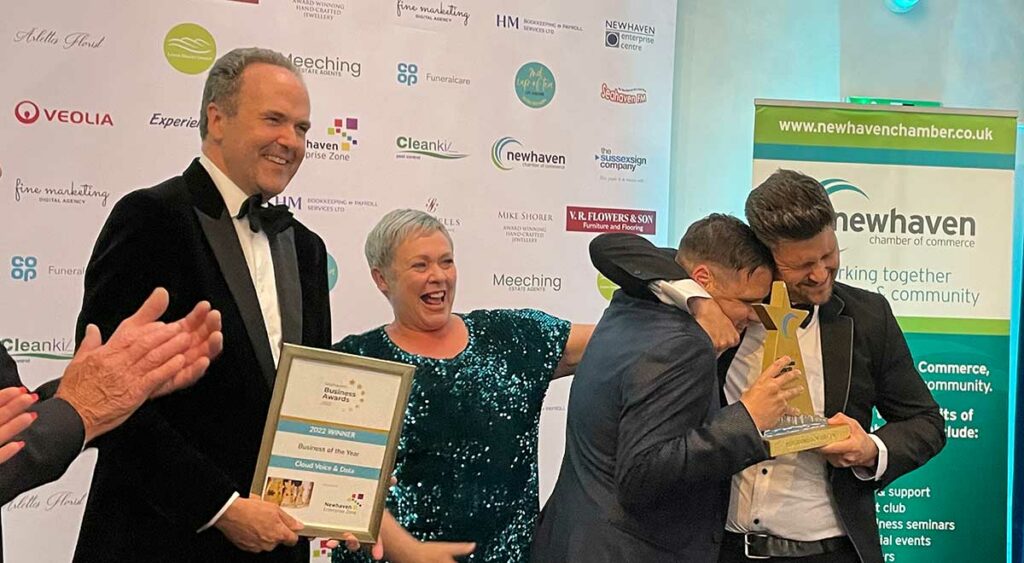 Emotions were running high at the the Seahaven Business Awards 2022 last night. The Presidents' Awards dinner at the Jerrom Hall, Peacehaven was a glittering and emotionally charged occasion, on Friday, May 13th when, the Newhaven Chamber of Commerce in association with Seaford and Peacehaven Chambers, put on the 17th annual business awards, the first since covid.
It was a fabulous evening with over 100 guests attending in the presence of Her Majesty the Queens's representative the Lord Lieutenant for East Sussex, Mr Andrew Blackman and His Excellency Ambassador Nguyen Hoang Long of Vietnam and Deputy Chief of Mission, Counsellor Mrs TO MINH THU. Our Sussex MPs Maria Caulfield and Lloyd Russell-Moyle, the towns' three Mayors and all three Presidents of the Chambers of Commerce completed the VIP guests.
The event was well supported by local sponsors and categories were judged this year by the two MPs, and the Presidents of the Newhaven, Seaford and Peacehaven's Chamber of Commerce.
President of Newhaven Chamber, Mike Shorer said ,'the greatest thanks need to be given to all the amazing businesses here tonight. You should all be hugely proud of yourselves. To survive and thrive during these last few traumatic, surreal and dangerous times is a testament to the great belief, drive, passion, strength and fortitude you have. Keep that belief, grow in strength, continue to follow your hearts and I guarantee you will achieve even greater success.'
Don't forget to view the Seahaven Business Awards Gallery 2022.
Our winners in 2022 are:
President's Award: Young Business Person of the Year
Sponsored by Mike Shorer Fine Jewellery
1st – George Durnford of GND Tree Surgery
2nd – Tiger Cox. Paragliding instructor and children's author
3rd – Ben Harris Photographer
Best New Business
Sponsored by the Newhaven Enterprise Centre
1st – Kande (Pick & Mix Sweet Delivery Business)
2nd (joint) – Claire Smith Floristry
2nd (joint) – Got Buns Huns (celebration cakes)
Best Environmental Business
Sponsored by Fine Marketing
1st – Havens Food Cooperative
2nd – Badger Inks
3rd (joint) – Aval Consulting Group Ltd
3rd (joint) – Chris Allen & Sons
Best Eatery
Sponsored by Experience It Now Travel
1st – La Maison Catering
2nd – West Quay Café
Business Person of the Year
Sponsored by Swindells Chartered Accountants
1st – Shell Rees of Be Well with Shell
2nd – Paula Woolven of Havens Community Hub
3rd – Chris Allen of Chris Allen & Sons
Best Customer Service
Sponsored by The Sussex Sign Company
1st – Emma Scorgie of Utility Warehouse
2nd – Be Fabulous
3rd – Cloud Voice & Data
Business of the Year
Sponsored by The Newhaven Enterprise Zone
1st – Cloud Voice & Data
2nd – La Maison Catering
3rd – Chris Allen & Sons
The Seahaven Business Awards recognise businesses which have shown tremendous resilience, innovation, success, and commitment to staff and who take pride in being part of the community. The winners were presented with trophies made by goldsmith Mike Shorer. Each trophy weighs 4kg and is made from solid aircraft grade alloy, anodised gold and then hand engraved and hand enamelled.
A silent auction and raffle were held raising over £1000 for the Newhaven Youth Club.
With many thanks to key sponsors this year Veolia, Meeching Estate Agents, Cleankill, V R Flowers & Son, Coop Funeral Care, HM Bookkeeping & Payroll Services Ltd., Arlettes Florists, Seahaven FM, Lewes District Council, and 2nd Cup of Tea.
Don't forget to view the Seahaven Business Awards Gallery 2022!