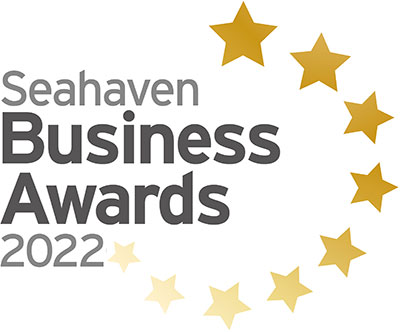 Entries for the 2022 Seahaven Business Awards have now closed
We can confirm that the response we had has been bigger and better than ever, and we have received record entries.
The Newhaven Chamber of Commerce, in association with Seaford and Peacehaven Chambers of Commerce, wish entrants every success as the entries start to go before the judges. Thank you for entering and showcasing your business. We wish you every success and the finalists will be contacted in approximately 2-3 weeks to invite them to the Awards Ceremony and Dinner.
The Seahaven Business Awards Ceremony and Dinner will be held on Friday, 13 May at the Jerrom Hall in Peacehaven. This is a glittering event in the presence of the Lord Lieutenant of East Sussex, The Vietnamese Ambassador, Maria Caulfield MP and Lloyd Russell-Moyle MP, the Mayors of Seaford, Newhaven and Peacehaven and the Presidents of the Chambers of Commerce from the same three towns.
Finally, we have to thank our sponsors. Without their support, we would not be able to put on the events every year. Many of these are local businesses and we really appreciate their sponsorship and support.
THANKS TO OUR FANTASTIC SPONSORS!

Use our contact form to get in touch or call the Newhaven Chamber on 01273 517544